Seattle Mariners: Why Yusei Kikuchi?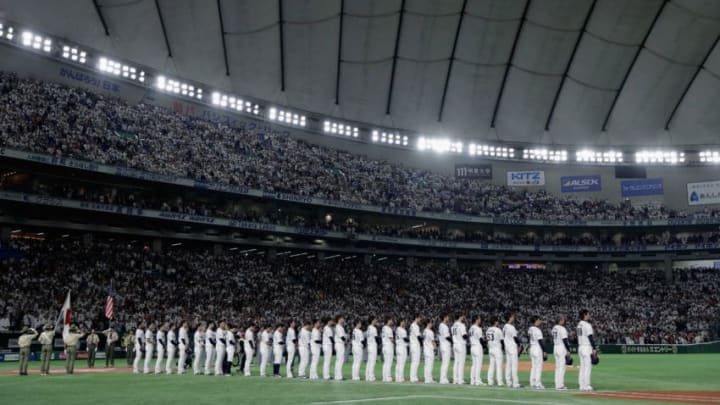 TOKYO, JAPAN - NOVEMBER 11: Japanese players line up prior to the game three of Japan and MLB All Stars at Tokyo Dome on November 11, 2018 in Tokyo, Japan. (Photo by Kiyoshi Ota/Getty Images) /
The Mariners made a splash on New Year's Eve, signing Japanese starting pitcher Yusei Kikuchi to a four-year deal. But the news has been met with some skepticism and confusion, considering Seattle's plan to take a step back in 2019.
That poses the question on everyone's minds: why did the Mariners commit to Yusei Kikuchi, and why did he pick the M's in their current position?
We should begin by quickly analyzing the rather complicated and intriguing contract Kikuchi signed. The dollar figures involved in the deal were surprising, adding up to a hefty $43 million guaranteed over the first three years. Another $13 million is practically guaranteed to Kikuchi, who can exercise a player option in 2022 if the Mariners refuse to pick up their four-year, $66 million team option following the 2021 season.
For a more in-depth look at the contract, take a gander at Colby's article from yesterday.
What the contract does, in short, is reaffirm the Mariners' commitment to competing within the next two-to-three years. Kikuchi, 27, is essentially club-controlled through 2025, depending on which path Seattle takes, of course.
Acquiring controllable MLB-ready talent has been a trend for Jerry Dipoto's busy offseason, with the likes of Domingo Santana, Mallex Smith, Omar Narváez, and Justus Sheffield already aboard. Kikuchi is just another piece the Mariners hope they can surround their incoming young core with by 2021.
Kikuchi may never reach the ace status he carried through recent years in the NPB, but his projection as a young, above-average middle-of-the-rotation starter could be a huge bargain for the Mariners in the end.
Of course, things never go according to plan in baseball. International signings are often a toss-up, though Kikuchi feels as much of a sure thing as can be.
Joining the Mariners in a rebuilding state should also be beneficial to Kikuchi in the long run. This will take the pressure off Kikuchi to immediately perform at a high level, and instead give him time to develop more and adjust to the MLB. When the Mariners are ready to compete once again, Kikuchi will have logged a couple years of experience.
As always, you also have to take into account the effect that the Mariners organization have had on Japanese baseball and how attractive the market is to young players overseas.
It's a good scenario for both parties, giving the Mariners a potentially dominant arm for their depleted rotation and Kikuchi the ability to ease into life as a Major Leaguer.