Goodbye, baseball: A thank you letter to the 2018 Seattle Mariners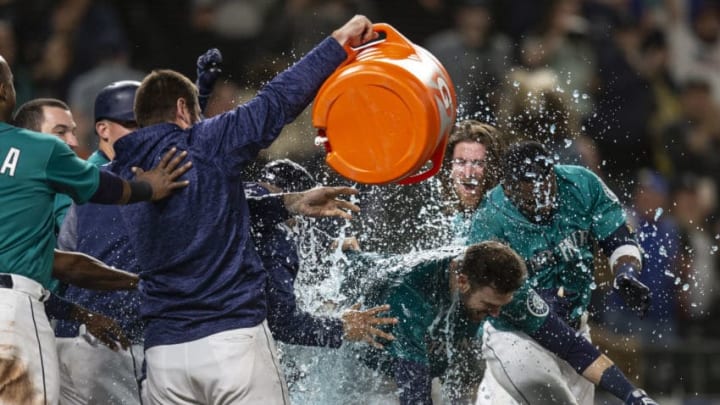 SEATTLE, WA - JUNE 1: Mitch Haniger #17 of the Seattle Mariners is doused by Gatorade after hitting a walkoff solo home run off of relief pitcherMatt Andriese #35 of the Tampa Bay Rays during the thirteenth inning of a game at Safeco Field on June 1, 2018 in Seattle, Washington. The Mariners won 4-3 in thirteen innings. (Photo by Stephen Brashear/Getty Images) /
Roughly a week removed from the season finale, I've cleansed myself of all pessimism and disappointment that I carried through the final stretch of the 2018 season. I've done this before. 17 times now, in fact.
That said, I still love the Seattle Mariners. I always will. It's an undying love that will constantly live in a boiling volcano of emotion, but it'll always be there, strong as ever. Just like the rest of the fanbase, I long for the day the Mariners finally end their historic playoff drought. I know it's coming, sooner rather than later. I truly believe that.
I did not expect the Mariners to contend for a playoff spot this season. They had a few solid pieces, but their roster simply wasn't whole enough to compete against the majority of the American League on paper. In some instances, I was wrong, and in others, I was spot-on. All I had asked for was that the Mariners would be fun this season, and they definitely were.
Despite the warranted frustration in the team bringing Ichiro back from a purely baseball standpoint, the child in me was excited and emotional about his return. Seeing him rob a José Ramírez homer over the left field wall his second game back, at 44-years-old, was pretty spectacular. One day later, Dee Gordon hit a go-ahead shot to seal a series victory of the Indians, strutting in Griffey-esque fashion. From that point forward, I knew this team was going to be fun.
When May rolled around, the Mariners were playing pretty solid ball but nothing to write home about. They were average, yet fun, which I was totally fine with. Then I got married, and as a wedding gift, my wife took me to all three games of the Blue Jays-Mariners series in Toronto. Well, this happened:
For those that don't know, I moved to New Mexico from Washington when I was 12-years-old. I'm 22 now. I used to see the Mariners on a fairly regular basis in my childhood, but I've only seen them three times in the 10-year period I've been away. So for that fact alone, seeing James Paxton's no-hitter at one of the very few games I've attended in 10 years, just two days removed from my wedding, felt like some sort of miracle.
My experience in Toronto led me to forfeit all hesitance and buy into this team. Then, well, Robinson Cano broke his hand and received an 80-game suspension just days later. My newfound excitement had quickly dissipated, and my hope for a playoff push was all but lost. But then, they just kept winning, and winning, and winning. It was by far the most fun I've had watching the Mariners in a very, very long time.
Of course, we all know how things ended, and I'm not going to focus on that today. Instead, I just want to thank the Mariners for the fun year they gave me. I'm proud of them for exceeding expectations and being a competent baseball team for us to actually care about. We honestly haven't had a lot of that for quite some time. I needed this. We all needed this. Perhaps they will regress once again, or perhaps this was just the start of something much greater. For once, I'm excited to find out.
Until then, my excitement will only grow more as each day goes by. A lot will happen between now and then, as familiar names depart and new faces walk in. The stadium I grew up watching baseball in will don a new name, but its beauty will always remain the same. Things will be different next year, in a more significant way than past seasons.
But now it is time to bid farewell to baseball for now. If you listen closely you may hear the clock faintly ticking, as we await a new beginning for our beloved team.
Thank you, Mariners. We'll see you soon.