Sodo Mojo's "Bloggers of Seattle" Fantasy Football League: The Draft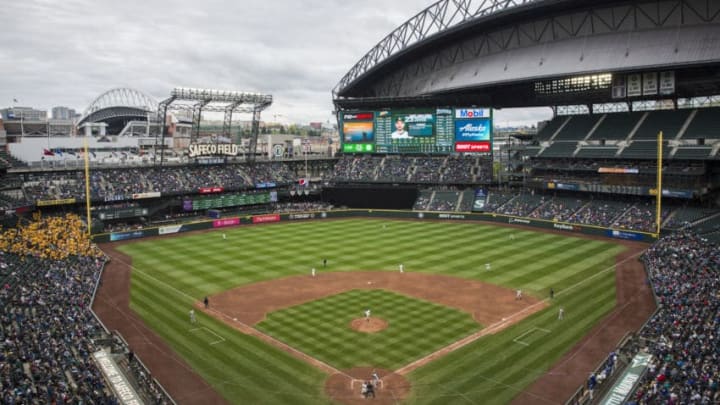 SEATTLE, WA - APRIL 15: A general view of Safeco Field as Felix Hernandez /
A shared passion of Seattle sports and spicy hot takes has led us to put our knowledge to the test. Sodo Mojo has challenged bloggers from various Seattle sports outlets and its readers to participate in the first ever "Bloggers of Seattle" fantasy football league.
Participants representing Sodo Mojo, Lookout Landing, and 12th Man Rising have come together to form a 12-man, point-per-reception league. While a specific pot is still yet to be decided upon, the league's champion will donate their winnings to the charity of a Seattle sports figure.
Even if you did not fill one of "reader" spots in the league, we still want to keep our readers into the loop and create something fun for you guys to follow. Every week, we will keep you posted with updates on the league.
Tonight, during the Mariners' impressive 7-1 victory of the A's, we held our league's draft. 192 picks later, the rosters are set and our teams are heading into next weekend with championship aspirations.
Sodo Mojo reader Jim Daleske led the night off with the first pick the draft, selecting Pittsburgh Steelers running back Le'Veon Bell. Here's how the full first round shaped up:
1. Team Daleske (Jim Daleske) – RB Le'Veon Bell, Pittsburgh Steelers
2. Orlando 12th Man (Luke Allen) – RB Todd Gurley, Los Angeles Rams
3. Wine'r Dine'r 49er (Jordan Newberry) – RB David Johnson, Arizona Cardinals
4. Team Haug (Daniel Haug) – WR Antonio Brown, Pittsburgh Steelers
5. Son of a Meetch (Ty Gonzalez) – RB Ezekiel Elliott, Dallas Cowboys
6. Vowell Movement (Lee Vowell) – RB Saquon Barkley, New York Giants
7. Nuclear Csonkas (Todd Vandenberg) – WR DeAndre Hopkins, Houston Texans
8. Team Patnode (Colby Patnode) – RB Alvin Kamara, New Orleans Saints
9. Team Hogg (Tyler Hogg) – RB Kareem Hunt, Kansas City Chiefs
10. Team Nooney (Jeff Nooney) – WR Odell Beckham Jr. – New York Giants
11. Britt-ains Got Talent (Ben Rhodes) – RB Dalvin Cook, Minnesota Vikings
12. Playing for aLL The MarbLLes (Grant Bronsdon) – RB Melvin Gordon, Los Angeles Chargers
We've included a slideshow for you guys to check out every team's roster and become familiar with the fantasy owners. Before you click on over to check out the teams, we'd love to hear from you. Let us know who you think are the best teams and who your choice is to win the whole thing.
Now, without further ado, click this slide and start analyzing (and ultimately bash) our bad teams: