The Drought, Part III: The 10 Most Underrated Mariners Since 2001 – Final Five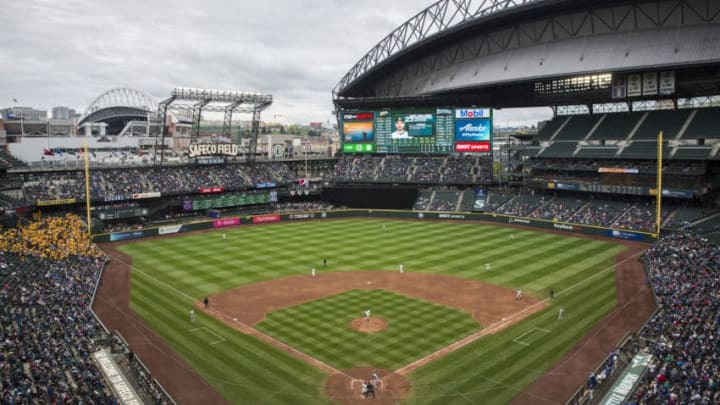 SEATTLE, WA - APRIL 15: A general view of Safeco Field as Felix Hernandez /
#1: OF Franklin Gutierrez
SEATTLE, WA – JULY 26: Franklin Gutierrez #30 of the Seattle Mariners is doused by teammates after hitting a walk-off home run to defeat the Toronto Blue Jays 6-5 in ten innings at Safeco Field on July 26, 2015, in Seattle, Washington. (Photo by Otto Greule Jr/Getty Images) /
You may feel differently about some of the players on this list, but there is no arguing this one. Everyone loves Guti.
Franklin Gutierrez was acquired in what is likely the greatest trade Jack Zduriencik ever made as the Mariners' general manager. While the Mariners also acquired Jason Vargas, Mike Carp, and Endy Chavez in the same deal, none of them came close to impacting the Mariners and their fanbase like Guti.
The late, great Dave Niehaus nicknamed Guti "Death to Flying Things" for obvious reasons. At his prime, Guti was the best defensive center fielder in all of baseball.
While Guti won a Gold Glove in 2010, his best season was clearly '09. That year, he posted a +31.0 – yes, 31!!! – UZR. For comparison, the year he won the Gold Glove, his UZR was +5.9. That's an insane difference.
Unfortunately, constant injuries kept Guti off the field for a significant amount of time after 2010. It felt as if he could never catch a break and one thing just led to another. It was sad to watch and broke our collective hearts.
From 2011 to 2013, Guti only played 173 games and the injuries began to affect his performance. When he finally reached full health once again in 2015, he was limited to a corner outfield spot. He just wasn't the same defender. However, he became an offensive threat instead, when his bat had been predominantly weak early in his career.
In 59 games for the M's in 2015, Guti hit a 167 wRC+ with 15 home runs, including an epic walk-off dinger against the Blue Jays. Ah, it was just the best.
Guti's age was catching up with him, though, and Jerry Dipoto needed to get younger. There just wasn't a spot for Guti on the Mariners past 2016.
Guti's contributions to this team, as well as his fight to get back to the MLB, should forever be admired. He was the true definition of a professional athlete and he was ours. He was on some really bad Mariners teams, but he made that all go away with how well he played.
Man, he was awesome.