The Drought, Part III: The 10 Most Underrated Mariners Since 2001 – Final Five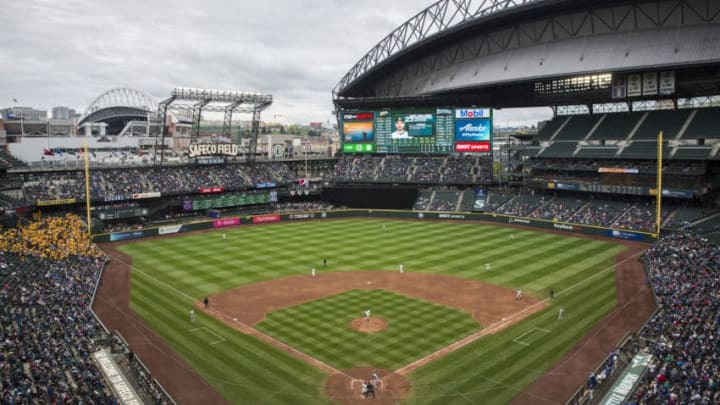 SEATTLE, WA - APRIL 15: A general view of Safeco Field as Felix Hernandez /
#2: OF Randy Winn
ANAHEIM, CA – SEPTEMBER 21: Designated hitter Randy Winn #2 of the Seattle Mariners warms-up for the game against the Anaheim Angels on September 21, 2004, at Angel Stadium in Anaheim, California. The Mariners defeated the Angels 7-3. (Photo by Jeff Gross/Getty Images) /
Randy Winn was a Seattle Mariner for only two-and-a-half years, but he's a very important player in Mariners lore.
After the Devil Rays hired Lou Pinella away from the Mariners, they sent Winn to Seattle as compensation. Despite a long history of success in Seattle, Pinella wanted to manage his hometown team, but the Mariners wouldn't let him go for cheap. Winn was coming off his lone All-Star season in which he accumulated a 4.6 WAR.
Adding Winn to an outfield that bolstered Ichiro and Mike Cameron was a pretty big deal, and the trio didn't disappoint. At that point, the Mariners didn't have too many glaring holes except for left field. Winn filled that need beautifully.
In his first season, Winn gave the M's a +3.6 UZR in 139 games from the corner. The Mariners had the best defensive outfield and all of baseball.
At the plate, Winn slashed .295/.346/.425 to the tune of a 109 wRC+. He was just another all-around piece that made the Mariners unfair on paper.
But baseball is also unfair, and the Mariners missed the playoffs in a season in which they won 93 games. Go figure. From that point forward, it was all downhill for the Mariners.
The reason why Randy Winn is so important is not just because of how well he played or the unique trade he was involved in. It's because he arrived right before the drought kicked into full gear.
After 2003, Mike Cameron left for the Mets in free agency, vacating center field. Winn took on the role and picked up right where Cameron left off. Winn notched an identical OBP to his 2003 campaign, added slightly more pop, and got his strikeout percentage down a few points.
But the Mariners were absolutely awful, spelling the beginning of the end for Winn's time patrolling the Safeco Field grass.
In 2005, Winn ascended to be an offensive juggernaut, earning himself a trip to San Francisco at the trade deadline. Returning to the Mariners in the deal was Yorvit Torrealba and Jesse Foppert. Uh, yeah.
Winn went on to be a five-win player twice for the Giants, while Torrealba was traded before the 2006 season and Foppert never made a pitch at the Major League level after the trade. Who
made that deal, you ask? Why, our good ol' friend Bill Bavasi, that's who. Surprised? No? Neither am I.