The Drought, Part III: The 10 Most Underrated Mariners Since 2001 – Final Five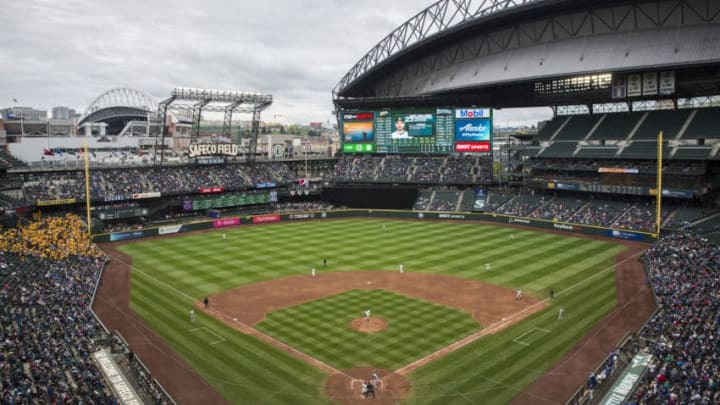 SEATTLE, WA - APRIL 15: A general view of Safeco Field as Felix Hernandez /
#3: OF/DH Raul Ibanez
SEATTLE, WA – JUNE 04: Raul Ibanez #28 of the Seattle Mariners crosses home plate after hitting a two-run homer in the first inning against the Chicago White Sox at Safeco Field on June 4, 2013, in Seattle, Washington. (Photo by Otto Greule Jr/Getty Images) /
RAAAAAUUUUUUUUUUUUUUUUUUUUUUUUUUUUUULLLLLLLLLLLLLLLL!!
Raul Ibanez's career with the Mariners was pretty weird. After flirting with the MLB in 1996 and 1997, Raul finally got consistent playing time with the M's from 1998 to 2000. He wasn't very good.
His performance, or lack thereof, resulted in him leaving Seattle for Kansas City in 2001. In true Mariners fashion, Raul found himself once he had left the Emerald City.
In three seasons with the Royals, Raul posted 114, 123, and 103 wRC+ seasons respectively. This would earn him a second stint with the Mariners and he made the most of it, earning himself a high spot on this list.
For five seasons, Raul was one of the Mariners' most consistent hitters, driving in tons of runs and putting the ball over the fence. He played all 162 games twice during that stint, hanging around a 120 wRC+ in that time. Somehow, he was never selected to an All-Star game as a Mariner.
Despite Raul's success, the Mariners could never find themselves in the postseason. Raul wanted to play for a winner and ended up signing a three-year deal with the defending champion Philadelphia Phillies in 2009.
Raul's career seemed to finally take a major dive in 2011, but it was short-lived. In 2012, Raul became a postseason hero for the New York Yankees and caught the Mariners' attention once again.
The third time around in Seattle was more of the same for Raul offensively, hitting 29 dingers to the tune of a 121 wRC+. For whatever reason, his bat would just not die. But, as you may remember, Jack Zduriencik's Mariners were run very poorly, and Eric Wedge thought it would be a great idea to play a 41-year-old Ibanez in left field on a consistent basis.
Such a decision resulted in this infamous play, which is what pops into everyone's minds when thinking about Raul's return that year.
Raul never really got the credit he deserved for being one of the Mariners' best hitters during this drought. Better late than never, I suppose.