The Drought, Part I: The 10 Worst Mariners Since 2001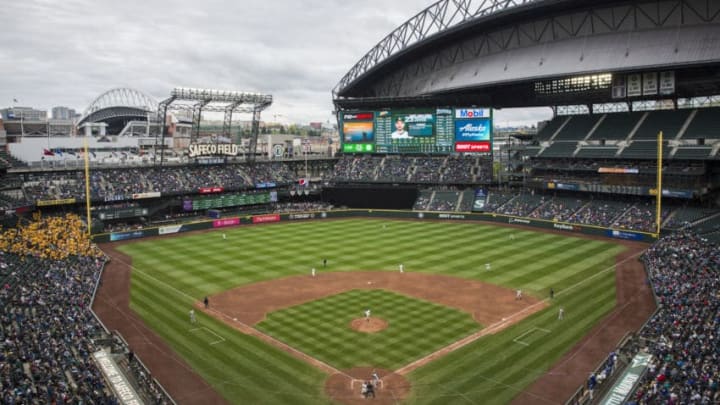 SEATTLE, WA - APRIL 15: A general view of Safeco Field as Felix Hernandez /
SEATTLE, WA – SEPTEMBER 12: Jesus Montero #63 of the Seattle Mariners rounds the bases after hitting a solo home run in the fourth inning against the Colorado Rockies at Safeco Field on September 12, 2015 in Seattle, Washington. (Photo by Otto Greule Jr/Getty Images) /
This one still stings.
Of all the bad trades Jack Zduriencik made, this one may be the worst. After Michael Pineda burst onto the scene with an All-Star rookie season for the Mariners in 2011, Zduriencik thought it'd be a great idea to strike while the iron was hot and trade him.
The Mariners found themselves a partner: the New York Yankees. At that time, the Yankees had a top catching prospect by the name of Jesus Montero who was absolutely mashing Minor League pitching. The Yankees were reluctant to part with Montero in past trade talks but felt Pineda was worth it.
At first glance, it looked like the Mariners were getting the "next big thing" in baseball. They did get the "next big thing." "Big," as in weight (sorry).
Montero was severely overweight for most of his career with the Mariners. He was a defensive liability as a catcher and was no longer needed thereafter Mike Zunino was called up in 2013. His career-high in wRC+ with the Mariners was 90 in 2012.
In the Bronx, Pineda dominated the AL East with multiple three-win seasons. Unfortunately, a UCL injury in 2017 required him to undergo Tommy John surgery and he's now working his way back within the Minnesota Twins' system.
But Pineda would have been nice to have in 2014 and 2016 when the Mariners finished just outside the postseason.
As for Montero, he's currently playing in the Mexican Baseball League after a PED suspension stuck a fork in his MLB career in 2016.
I wonder if they have good ice cream sandwiches down in Mexico.