The Drought, Part I: The 10 Worst Mariners Since 2001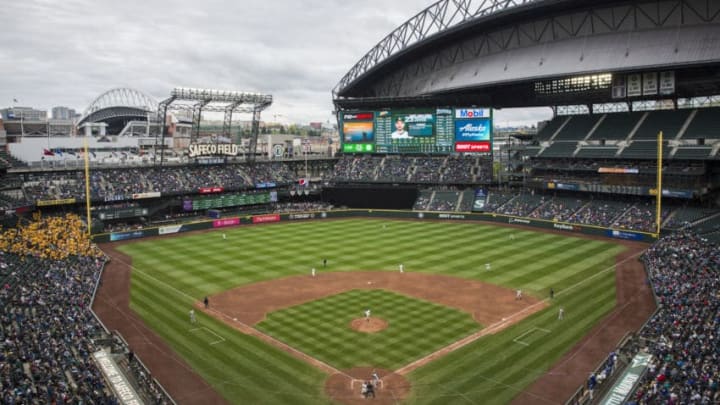 SEATTLE, WA - APRIL 15: A general view of Safeco Field as Felix Hernandez /
OAKLAND – JULY 10: Brandon Marrow #35 of the Seattle Mariners reacts to his pitch against the Oakland Athletics during a Major League Baseball game on July 10, 2008 at McAfee Coliseum in Oakland, California. (Photo by: Jed Jacobsohn/Getty Images)Oh boy. Where do we begin on Brandon Morrow? The most glaring offense is not on Morrow's behalf, but rather on the Mariners' front office. /
The Mariners held the fifth overall pick in the 2006 MLB Draft. Everything was lined up perfectly for the M's to select Tim Lincecum, a local pitcher from the University of Washington. Instead, the Mariners decided to take Brandon Morrow, a young hurler from Berkeley.
Lincecum would go on to win two Cy Young awards and three World Series championships with the San Francisco Giants.
But Lincecum was not the only future superstar the Mariners passed up on that day. The next two picks after Morrow were none other than perennial All-Stars Andrew Miller and Clayton Kershaw. Six picks later, another superstar was selected by the Arizona Diamondbacks: Max Scherzer.
With all that said, Brandon Morrow just had to be amazing, didn't he? Well, he wasn't. He wasn't awful either, but given what the M's passed on in favor of him, his time in Seattle is frustrating.
Morrow was rushed through the Mariners system, breaking camp with the team in 2007 after only playing eight Minor League games the previous year.
2007 was rough for Morrow, who appeared in 60 games that year. He struggled with his command, posting an outrageous 7.11 BB/9.
2008 was a bit better, but the Mariners couldn't find a specific role for Morrow. They tried him as a middle reliever, closer, and even a starter for five games.
Morrow could not handle starting pitching duties due to his battle with Type 1 Diabetes. Thus, the Mariners scrambled to find him a spot to contribute.
Morrow found some success in the closer role, notching 10 saves, but overall appeared uncomfortable.
The following year saw no improvement from Morrow and the Mariners finally decided to part ways while he still held value on the trade market. That December, Morrow was shipped North of the border to the Blue Jays for RHP Brandon League and OF Johermyn Chavez.
League went on to pitch two-and-a-half seasons out of the Mariners bullpen and was pretty solid. In 2011, League notched a career-high 37 saves in his first and only All-Star season.
In Toronto, Morrow was able to work out his struggles with Diabetes and became a full-time starter. Morrow blossomed and posted 3.6, 3.2, and 2.4-win seasons with the Blue Jays in 2010, 2011, and 2012.
Injuries caught up with Morrow for several years after, though. But in 2017, Morrow made a name for himself as a late-inning reliever for the Dodgers in the postseason. This landed Morrow a two-year, $21 million deal with the Chicago Cubs.
Now, in 2018, Morrow is off to a solid start and appears to be on his way to his first career All-Star selection.