MLB Draft Day 1 Recap: Mariners Select Logan Gilbert, Josh Stowers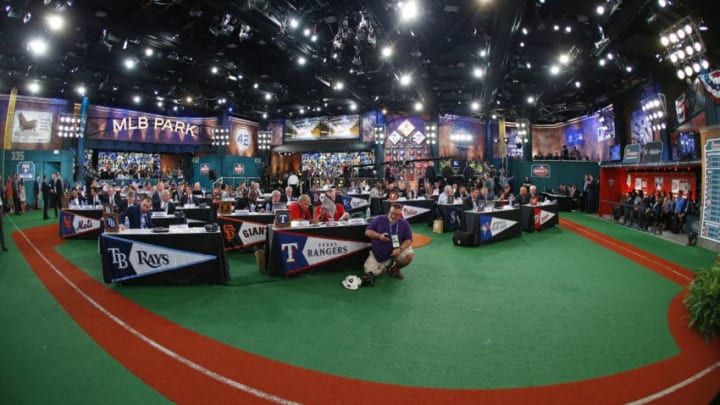 SECAUCUS, NJ - JUNE 5: Representatives from all 30 Major League Baseball teams fill Studio 42 during the MLB First-Year Player Draft at the MLB Network Studio on June 5, 2014 in Secacucus, New Jersey. (Photo by Rich Schultz/Getty Images) /
The Mariners selected two collegiate players to help bolster a depleted farm system in the first two rounds of the 2018 MLB Draft. So far, so good… I think?
After unloading a significant portion of higher ranked prospects in the last two years, the Mariners enter the 2018 MLB Draft in need of rebuilding their farm system from the ground up. Don't get it twisted – this has been known.
The idea that the Mariners have one of – if not the – worst farm systems in baseball is nothing new. Jerry Dipoto inherited a lackluster farm system and thus has shipped most of its leading names elsewhere.
In terms of positional players, the Mariners' farm system isn't as bad as advertised. Really, it comes down to the pitching side of things.
Last year, the Mariners spent a second round pick on an incredibly impressive prep pitcher Sam Carlson. Now the #3 ranked prospect in the Mariners system by MLB Pipeline, Carlson has yet to pitch in 2018 with arm issues.
However, Carlson is still a young name to be excited about once he gets back on the diamond. After Carlson, though, things begin to get really iffy.
Pipeline has the Mariners second-best starting pitching prospect as Max Povse. While Povse is pitching fairly well in AA Arkansas currently, he has been awful at the higher levels. Anthony Misiewicz is the third highest-ranked starter in the M's system and he's been mediocre at best in Arkansas this year.
In short, other than Carlson, there are really no other exciting starting arms among their ranks.
Tonight, the Mariners addressed this issue by selecting Stetson starting pitcher Logan Gilbert.
Last month, Colby accurately mocked Gilbert to the M's. In the article, he mentions that Gilbert could very well be in a Mariner uniform as soon as 2020. Having an exciting young arm close to the big leagues is something the Mariners haven't had since Taijuan Walker and James Paxton.
This can also be attributed to the fact that Gilbert is the first pitcher the Mariners have selected in the first round since 2012.
While Gilbert is a really good pick at #14, there is a downside to the selection considering who fell to the Mariners. The oft-projected #2 best available player in the draft, Florida starter Brady Singer, was there. However, there are rumors that Singer demanded too much money and teams were scared that he would not sign with them. It appears the Mariners are in that group.
Singer was finally selected with the 18th pick by the Kansas City Royals.
Another starter, prep phenom Matthew Liberatore, also fell despite being widely considered a top-five talent and one of the most MLB-ready high schoolers in years. While this could have also been a money issue or a fear of his commitment to his hometown University of Arizona, it stung to see the M's pass up on such a talent.
The lefty went two picks later, to the Tampa Bay Rays.
Alas, Gilbert was the guy the Mariners wanted above the rest. Gilbert currently leads Division I baseball in strikeouts with 157. In contrast, he has only walked 23 batters this season. That screams Dipoto all over it.
Gilbert simply doesn't lose either. He is 23-2 in his collegiate career, mainly because teams often can't score on him. Over the last three years, Gilbert has consistently stayed in the mid-to-low 2.00s in ERA.
Standing at 6'6″, Gilbert has a powerful delivery that has led to the aforementioned strikeout count. Despite a dip in velocity to start the season, Gilbert has regained the ability to throw 97 MPH at any time.
Gilbert fits the mold of Stetson's two greatest achievers in the MLB: Corey Kluber and Jacob deGrom. While Gilbert has some mechanics to improve on, the Mariners could eventually strike gold with this selection.
The Mariners then had to wait 40 picks in between their first and second round selections. Once again, a few "big names" fell to them, such as Missouri State shortstop Jeremy Eierman and high school flamethrower Kumar Rocker.
Instead, the Mariners selected Louisville outfielder Josh Stowers with the 54th pick.
Initially, this was a bit of a head-scratcher considering the talent remaining on the board. Additionally, Stowers was more thought of as a third or fourth round talent.
Once you dive into the numbers, though, it begins to make sense. The first thing scouts mention about Stowers is his speed. Stowers has backed up such praise with 36 steals in 43 attempts this season, with a total of 60 steals in his collegiate career.
What truly is impressive about Stowers is his plate discipline. In 2018, Stowers has walked 52 times while striking out on just 37 occasions. This has greatly assisted an incredible .477 OBP, which is good enough for 28th in Division I baseball.
At 6'0″ tall, Stowers has some sneaky power for someone his size. Of his 74 hits this season, 25 of them went for extra bases, including nine home runs. In the Majors, scouts have Stowers pegged for roughly 12-15 dingers a year.
Overall, Stowers' performance at the plate in 2018 netted him an OPS of 1.036. Compared to every college outfielder selected ahead of him, only Steele Walker and Trevor Larnach hit for a better clip and not by much.
The reason Stowers didn't receive the hype associated with those names ahead of him was for his defense. Simply put, Stowers has a pretty weak arm for a center fielder. If he cannot greatly develop defensively, Stowers' ceiling will likely be lowered to a left fielder or a fourth outfielder in the MLB.
In the end, the Mariners drafted Stowers for his bat. It's been such a consistent commodity for Stowers and that's ultimately why he was taken in the second round.
Stowers participated in the 2017 Cape Cod Baseball League and performed fairly well. Despite getting off to a mediocre start, Stowers wrapped up his time in Cape Cod with an average of .250 during the regular season. He also notched 12 stolen bases and a pair of home runs.
Stowers' offensive capabilities should translate rather nicely to the professional level. Again, it just all relies on how well he can develop his defensive game.
After some deliberating, it's a nice pick but it's not much of a floor-raiser in terms of the farm's reputation. Currently, Stowers will likely slot in just outside of the Mariners' top five prospects. That doesn't indicate a whole lot, given how little depth the Mariners have in their farm rankings.
Next: Mariners 10 Round Mock Draft
To wrap up, the Mariners nabbed a pair of solid college talents who can help the Mariners sooner rather than later. It's a good start. Let's see what they accomplish tomorrow.
Rounds 3-10 of the 2018 MLB Draft will begin tomorrow morning at 9:30 AM PT.