2018 Mariners MLB Draft Prospect Profile: Jeremy Eierman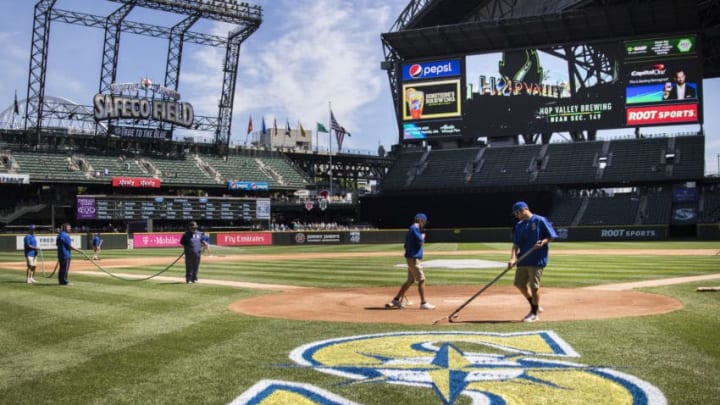 SEATTLE, WA - JULY 09: The Seattle grounds crew prepares the field before the game between the Seattle Mariners and the Oakland Athletics at Safeco Field on July 9, 2017 in Seattle, Washington. (Photo by Lindsey Wasson/Getty Images) /
As anybody who studies prospects will tell you, the more time you spend studying, the more you fall in love with certain players. Last season, "my guy" was Jeren Kendall of Vanderbilt. This year, I'm going small school shopping.
My "obsession" of with this player began last season, when the Mariners were continually connected to his teammate from Missouri State, Jake Burger. I was very, blah on Burger, but was quite interested in his teammate. That player is Jeremy Eierman.
Eierman, a 21-year-old shortstop, is currently ranked 13th in MLB Pipelines Top 50 Draft Prospect. By the end of the this season, Eierman could find his way out of reach of the Mariners. Should he still be on the board at pick 14, the Mariners should jump all over that opportunity.
As a freshman, he played in 59 games, and hit a solid .296/.336/.504 in 230 AB's. He also showed good pop, hitting 9 home runs as an 18-year-old. As expected, Eierman had a lot of swing and miss, posted a 67:12 K/BB ratio.
Eierman came back stronger in 2017, and absolutely raked. He posted a .313/.431/.675 slash in 63 games, bashing 23 home runs in the process. In addition to his growth as a power hitter, Eierman also improved his plate recognition skills, posting a solid 61:41 K/9 ratio.
Unlike many college hitters, Eierman can hit for power to all field, as seen in this walk-off homer against Oklahoma State in a Super Regional.
Of course, there are other factors than collegiate stats that are factored into my love of Jeremy Eierman. Stats are great, but without understanding what tools a player works with, they are incomplete.
Scouting Grades(20-80)- Hit: 55 Power:60 Run:55 Field:50 Arm:65 Overall:55 Potential: 60-65
Obviously, this is a very impressive tool set. The speed tool shows up in the stats, as Eierman was 17 of 19 in stolen base attempts in 2017. He cuts the bases well, and could be a 12-15 SB guy in the big leagues.
The biggest question surrounding Eierman is if he can stay at short. Some scouts believe he has a chance, but many doubt the quickness of Eierman. However, with his elite arm strength and soft hands, Eierman is a natural fit for third. Some believe he could be Gold Glove caliber, but most agree he will be, at worst, a solid defender.
Eierman's profile, along with his swing, are reminiscent of one former star. Perhaps this is a case of seeing what you want to see, but watching Eierman, it is hard for me to ignore the similarities. Eierman reminds me of David Wright.
Next: MLB Draft Prospect Profile: Jackson Kowar
Now, obviously Wright is an incredible bar to reach for any young player. A lot of things would have to go right for Eierman to sniff the level of a borderline Hall of Famer. However, with his power/speed combo, improving plate discipline, Gold Glove potential at 3rd, and his reputation as a baseball junkie and grinder, I wouldn't bet against him.