Seattle Mariners: What Does Steve Pearce Offer The M's?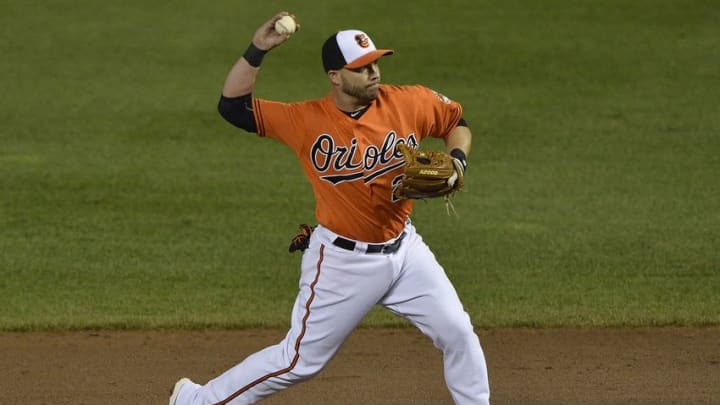 Aug 20, 2016; Baltimore, MD, USA; Baltimore Orioles second baseman Steve Pearce (28) throws to first base during the ninth inning against the Baltimore Orioles at Oriole Park at Camden Yards. Baltimore Orioles defeated Houston Astros 12-2.Mandatory Credit: Tommy Gilligan-USA TODAY Sports /
The Mariners could soon have a new utility back-up that could give next year's team even more power. That is, if they can get him in a trade with the Tampa Rays. This mystery man on the hot seat is Steve Pearce, and, if rumors are true, he could be one of the newest Mariners.
As per Bob Dutton's off-season speculation in a piece for The News Tribune, the Mariners have interest in acquiring Steve Pearce. And, why not? from a fielding standpoint alone, Pearce has spent many games playing every position on the diamond except for catcher, center fielder or shortstop. He has played everywhere else and excelled doing so.
Aside from playing at the hot corner of third base in twelve scattered game in his career -he had a mediocre fielding percentage of .953- Pearce has had a fielding percentage of over .980% at every other position. He is at his best in left field and first base where he has numbers of .994% and .995% respectively. He has played at least one hundred games at each position.
But, he is more than just a successful fielder, he also does very well at the plate too. No matter where he was playing in the field, it didn't seem to effect his bat. Over ten years he has slowly come around to be a semi-reliable power-hitter.
More from SoDo Mojo
From 2007-2013, Pearce smashed only seventeen home runs. In 2014, he had his breakout year, hitting a total of twenty-one home runs, four more than all his previous years combined. In the two years since, he has hit twenty-eight dingers. That's three straight years of at least ten home runs. Before 2013, he never had more than four.
His RBIs and batting average have also soared since his 2014 surge. From 2007-2013, Pearce tallied more than twenty-five RBIs once- that was back in 2012. Since 2014, he has not only broken thirty RBI in the past three seasons, but two of those years he passed forty runs batted in.
As for his batting average, since 2013, there has been an uptick in his numbers, and we've seen Pearce at his best in two of the past three years. He batted over .280 this past year and .293 in 2014.
It should be added, all of these numbers spiked up after he Pearce turned thirty, showing that age doesn't matter.
There is a caveat to these numbers though. Before his breakout 2014 season, Pearce didn't take the field very often. Before that year, Pearce played in less than sixty-one games every year- playing in less than forty games in three seasons before 2014.
Next: The Mariners Big Catchers Problem
Yet, despite his age and his irregularity in the field, the Mariners see Pearce as a man who wants to continue to redeem his irrelevant early career stats. The Mariners could use a player that can fill in for so many of his teammates when they need a rest. It doesn't hurt that he is excellent in the field and at the plate, while he is a fill in.