Mariners Analysis: Top 5 First Round Picks in M's History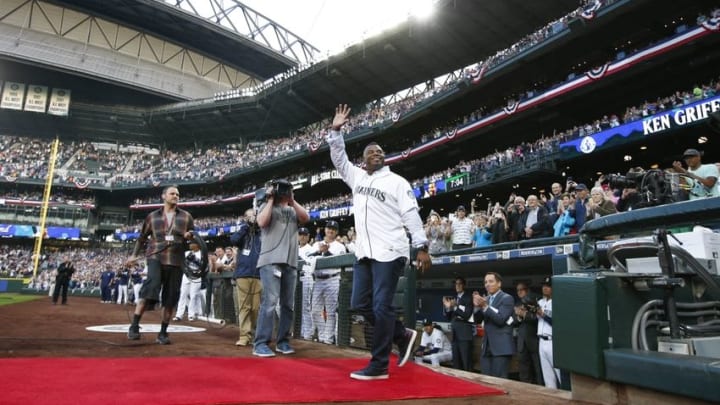 Apr 8, 2016; Seattle, WA, USA; Seattle Mariners former outfielder Ken Griffey, Jr. is introduced during a pre game ceremony honoring his selection to the baseball hall of fame before a game against the Oakland Athletics at Safeco Field. Mandatory Credit: Joe Nicholson-USA TODAY Sports /
Jul 22, 2015; Washington, DC, USA; Washington Nationals relief pitcher Matt Thornton (46) throws to the New York Mets during the eighth inning at Nationals Park. The Washington Nationals won 4-3. Mandatory Credit: Brad Mills-USA TODAY Sports /
Honorable Mentions
Matt Thornton – LHP – Rd. 1 Pick 22 in 1998
This 39-year-old southpaw is still pitching in the big leagues, and he is still one of the most dominant relievers in baseball. Thornton only spent two years in Seattle, going 1-6 with a 4.82 ERA across 74 appearances. The Mariners shipped him off to the Chicago White Sox in 2006, and he has posted a 3.11 ERA in the decade since. Thornton represented the Sox at the 2010 All-Star Game, and also holds the American League record for most career holds.
Dave Henderson – CF – Rd. 1 Pick 26 in 1977
Hendu was the Mariners first ever first round selection, and he was one of the more productive players ever drafted by Seattle. The fan favorite spent his first six seasons with the M's, posting a .257 batting average with 79 home runs and 271 RBI. Henderson was traded to Boston in 1986, and his best years as a pro came with the Oakland A's in the late 80's and early 90's. Dave moved into the broadcast booth after retiring in 1994. He was a gifted broadcaster, and his passing this offseason was upsetting to baseball fans everywhere.
Gil Meche – RHP – Rd. 1 Pick 22 in 1996
Meche reached the big leagues as a 20-year-old in 1999, and proceeded to spend 6 seasons in Seattle. He went 55-44 with a 4.65 ERA across 147 appearances (143 starts) with the Mariners. Meche signed with the Kansas City Royals following the 2006 season. He made his lone All-Star appearance with the Royals in 2007, and retired after the 2010 season.
Jose Cruz – CF – Rd. 1 Pick 3 in 1997
Jose Cruz's path to Seattle was blocked by some guy named Ken Griffey Jr., and the Mariners shipped him to Toronto midway through his rookie season in 1997. Cruz played just 49 games with the M's, hitting .268 with 12 home runs and 34 RBI. He hung up his cleats in 2008 after playing 12 years in the big leagues. Cruz was a gifted defender, and he took home the Gold Glove for his work in center field with the San Francisco Giants in 2003.
Ron Villone – LHP – Rd. 1 Pick 14 in 1992
This lefty specialist played for 15 years in the big leagues with 12 different organizations. Much like Cruz, Villone was traded by the Mariners midway through his rookie season in 1995. However, he returned to the M's in 2004, and played three total seasons in the Emerald City. Villone went 10-11 with a 4.13 ERA across 127 appearances (10 starts) with Seattle. For his career, he went 61-65 with a 4.73 ERA and 8 saves through 717 appearances.
Brandon Morrow – RHP – Rd. 1 Pick 5 in 2006
This hard-throwing right-hander spent his first three seasons with the Mariners, going 8-12 with a 3.96 ERA across 127 appearances (15 starts). Seattle traded Morrow to the Toronto Blue Jays in 2009, and he is now pitching for the San Diego Padres. He is 44-43 with a 4.22 ERA in 9 seasons. Arm talent has never been the issue for Morrow, but staying healthy has been a constant concern for the former Berkeley standout. Morrow is off to a great start in 2016, going 2-0 with a 2.73 ERA through 5 starts with the Padres.
Shawn Estes – LHP – Rd. 1 Pick 11 in 1991
Shawn Estes pitched for 13 years in the big leagues, none of which were with the Mariners. Estes is another example of a quality young player Seattle traded away in the mid-90's. He rose to fame with the San Francisco Giants, making an All-Star appearance in 1997 after tallying 19 wins. Estes retried in 2008 after winning 101 games and posting a 4.71 ERA in 283 appearances (281 starts).
Taijuan Walker – RHP – Rd. 1 Pick 43 in 2010
'The Fresh Prince of Seattle' could earn a spot in the M's top 5 first round picks in the near future. Taijuan Walker has spent parts of four seasons in Seattle, going 16-11 with a 3.89 ERA across 44 appearances (41 starts). The 23-year-old is off to a blistering start in 2016, posing a 1.44 ERA through his first four stars with a pair of wins. Walker is the most exciting young arm since Felix Hernandez in Seattle, and it will be fun to watch him continue to mature this summer.
Next: Number 5